The celebrity lifestyle is something most of us can only dream about. Whilst we are carefully saving our pennies to have enough for a deposit on a modest end of terrace, stars are splurging millions of pounds on luxury mansions. I know I'd probably be doing the same if I had the cash, so what exactly would I get for my millions, if my imaginary second career as a singer ever took off? Here are 10 of the most expensive pads owned by celebrities:
1. Madonna's decedent home
 Image Source
Earlier this year Madonna sold her Beverley Hills mansion for $20 million. The 17,000 square foot property boasts a secluded location with a long tree-lined driveway. With 15 bathrooms, movie theatre, tennis court , 9 bedrooms, pool, and 2 storey dining room; what more could you possibly want from a property?
2. Bill Gates's technology mansion
Image Source
Nicknamed "Xanadu 2.0" (a reference to Citizen Kane), this $63 million residence is noted for the technology that's integrated into the structure. Inside, a 60 foot swimming pool features an underwater sound system, whilst outside, the drive features underfloor heating. This unusual mansion took 7 years to build and is now worth around $97 million.
3. Oprah Winfrey's "Promised Land"
Image Source
This 23,000 square foot celebrity residence sits on over 40 acres of land and features a beautifully terraced garden with 600 rose bushes. The Georgian-style mansion was purchased for $50 million in 2001.
4. Celine Dion's Jupiter Island residence
Image Source
The famous singer bought two properties in Jupiter Island, Florida for £7 million and $2.5 million. After renovating the properties into a riverside oasis, they were put on the market this year for a whopping $72.5 million. What do you get for the money? Well, a private river for a start!
5. Petra Ecclestone's pad
Image Source
Originally constructed in 1988 for the television producer Aaron Spelling, this $85 million châteauesque property now belongs to Petra Ecclestone, the daughter of Formula One racing Bernie Ecclestone. In 2011 she purchased the home for $85 million.
With 123 rooms, parking spaces for 100 cars, a movie screening room, gymnasium, bowling alley, and swimming pool, this sprawling property was one of the largest ever real estate sales in Los Angeles County.
6. The Versace Mansion
Image Source
Purchased in 1992 by the famous designer Gianna Versace, the property was in a state of disrepair and was renovated at a cost of $33 million. New additions included; a gold-lines swimming pool, gold-plated taps, wall and ceiling frescoes, and expensive works of art.
After Versace's death in 1997, the property was eventually auctioned for $41.5 million and is now owned by Jordache Enterprises.
7. Beckingham Palace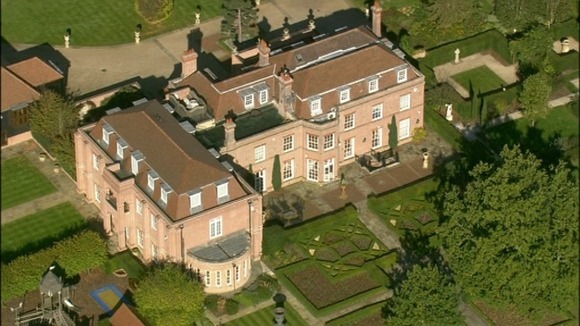 Image Source
Originally purchased in 1999, after their marriage, David and Victoria Beckham invested a further £18 million into the 1930's Georgian-style property. The seven bedroom Grade II listed home, equipped with a recording studio, snooker room and gym sold for £12 million this year; maybe not the most expensive celebrity property in the world, but still a pricey home!
8. Richard Gere's waterfront manor
Image Source
Referred to as "Strongheart Manor" the North Haven waterfront mansion boasts a 6 acre private estate with separate guest houses, a tea house, private beach and boat dock. How much do you need to part with? Well a cool $65 million should cover it.
9. Hugh Hefner's Playboy Mansion
Image Source
This 21,987 square-foot mansion, designed in a Gothic-Tudor style sits in 5.3 acres of land near Beverly Hills. Featuring a zoo, aviary, grotto and wine seller, this 22 room mansion was valued at $54 million in 2011.
10. Bob Hope's space age residence
Image Source
Bob Hope's Palm Springs home was designed by John Lautner, and is a dramatic modernist building that resembles a volcano. The 23,000 square foot property features a glass and concrete structure, with a sweeping copper roof, which in my humble opinion slightly resembles the front of the Starship Enterprise!
This amazing and unique property was listed earlier this year, for the princely sum of $50 million.
Owning a property with tennis courts, pools, private rivers, or stylish Grant Elevators, is just a dream for most of us average human beings, but maybe one day I'll make my millions and have a home with it's own zoo, you never know…